How Mosaic HCM Does HR
We're a team of folks who are passionate about supporting our clients' HR needs by way of outstanding HCM technology that provides an all-encompassing picture into every employee's lifecycle with your company—from application to post-employment practices. Our job is to provide you with the tools your human resource team needs to drive engagement, deliver efficiency, and say goodbye to outdated (and painful) paper systems.
At Mosaic HCM, we've taken the robust functionality of WorkforceOne and paired it with the best and brightest people in the HCM business (also known as our employees). The end result is an incredible work of art that removes the manual work your staff is doing while simultaneously providing you with support from our team of high-caliber HR and payroll pros.
In other words, Mosaic HCM does HR two ways: with great technology and even better people who support our business and yours.
Streamlining HR in a Way that Makes Sense
If the word 'paperwork' makes you shudder with fear, we're with you! Mosaic HCM is staffed by a group of people who have been where you are. They've struggled with your obstacles, figured out workarounds, and, fortunately for us, they decided to become part of our team.
Thanks to the insights and experience our team provides, we're able to offer HR services that streamline many of the hardships human resource professionals undertake daily. When you partner with us, you're acquiring the best HCM tools around; you're also gaining a partnership that supersedes the quality any of our competitors can offer.
WorkforceOne provides a streamlined way of managing people processes, which eliminates many of the errors and inefficiencies present in outdated systems. With WorkforceOne you'll enjoy:
Get a Next Level HR Solution
---
With Mosaic HCM's Cloud-Based Human Resources software, your business' HR is easier to manage in a multitude of ways! Engage with everyone from candidates to managers across any device. Reducing compliance risks by documenting policies and standardizing processes across the employee lifecycle will help expand your business' HR capacity alongside HR triggers to assist with processes from recruitment to offboarding.
An easy overview of candidates' and employees' journeys. HR begins with recruitment. Long before anyone steps into your building for an interview, your staff is diligently sifting through resumes, conducting phone screens, and figuring out how to manage the best talent options. Paperwork makes this a cumbersome process, but WorkforceOne puts all the information at the tips of your fingertips.

A manageable system for delivering performance reviews and engagement. If you're stuck in a chaotic world of could-be-correct spreadsheets, you're missing out on great opportunities to address your staff's excellence and opportunities in real time. WorkforceOne puts that conundrum to rest by providing talent management capabilities that enable managers to optimize feedback in a timely fashion.

Better benefits management. Ugh! Benefits! They're a tough cookie to deal with, but they're an essential part of the business process. If you're not working with the right systems, you're probably doing, re-doing, revising, and re-submitting benefits and payroll information constantly. Human errors happen, particularly with manual systems. With Workforce1, you can easily access enrollment numbers, employer costs, and premium reconciliation. Cut out the clutter by going with an automated software that takes care of the dirty work.

Reduced reporting complexities. You wish there was a way to just go into an employee's record, click the applicable options, and run the necessary report. Wouldn't that be nice? Workforce1 HR does that for you. With a single-storage system in place, all the relevant information is available at the click of a button. No more digging through filing cabinets or figuring out how to turn a spreadsheet into a pivot table or chart. The work is done for you with a pristine presentation.

Less mess. How many times have you been forced to climb over piles of new-hire or open-enrollment paperwork just to get to your desk? Say goodbye to this unfortunate mess. When you're armed with the right software, all of your HR solutions are stored in a system that makes sense, such as:

Employee Self-Service Tools
Mobile Access
Built-in, Configurable Workflows (for easy scheduling and task management)
Configurable Workflow Engine (which automates your processes and provides for more consistent policy enforcement)
How Mosaic HCM Fits in with WorkforceOne
We understand that you can get great HR technology from many different places, but what you can't get anywhere else is our ability to implement ' technology seamlessly. The thing is, if you go with the wrong provider, you'll find yourself flustered over the service you're not receiving. Most companies don't care about their clients like we do, and the majority aren't backed by the operational foundation to understand how imperative this software is to your business.
We're different.
Mosaic HCM is your HR partner, complete with all the resources to help you ensure compliance, track employees' journeys, and implement best practices without leaving you to muddle through the mess of an incomplete implementation. We don't sell a product; we sell our business, and that means our brand and our commitment to service comes with it.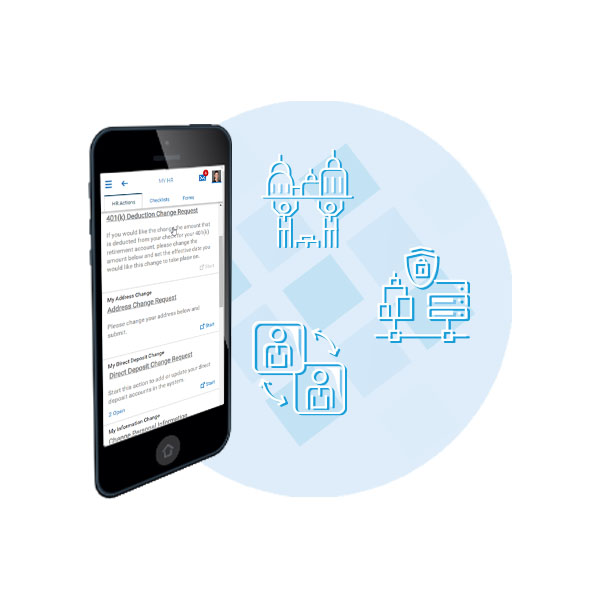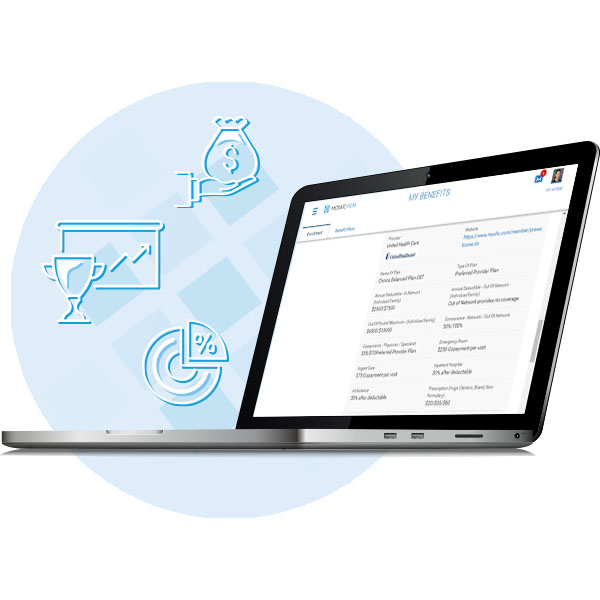 WorkforceOne HR
Workforce1 reinforces the idea that HR should be simpler. It's HRMS features:
Electronic onboarding / New hire checklist / Workflow

Recruitment / ATS with applicant self-service

HRIS management and tracking

Job board / Website integration

Exit interview / Termination workflow

Performance review management with workflow / notifications

Succession, Performance, Compensation Planning

Online benefit enrollment, management, workflow

Company policy & document acknowledgment and tracking

Company portal with communications, events, announcements, and custom dashboards

System-built organizational chart

Total compensation statements

Built-in governmental compliance reporting

Asset / Property management

HR Action employee and manager requesting

Training / Certifications / License management

Incident / Discipline tracking

Custom HR fields tracking

Unlimited HR support center (policies and forms)

E-Verify Integration

Turnover rate reporting and analysis

Checklists tied to Workflow, Custom forms and HR Actions

Job tracking and Change workflow

Employee Perspectives

The list goes on and on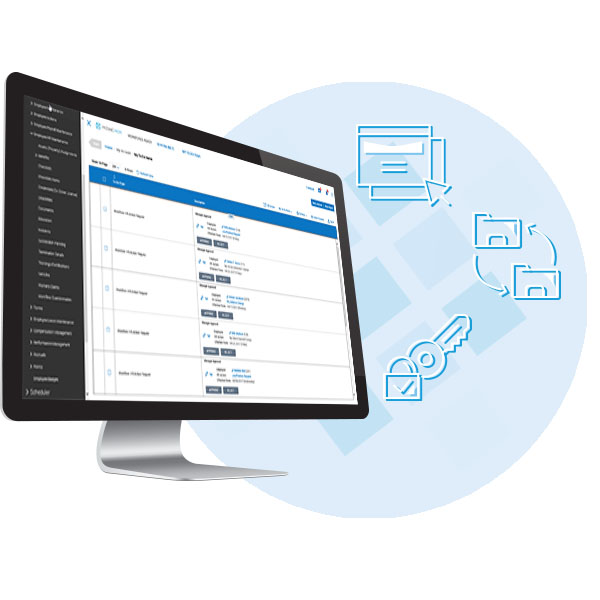 Are you ready to get rid of paperwork and get back to the people? Mosaic HCM is your partner for all things HR! We're ready for you because we're Workforce1. Reach out to our team today to learn how we can enhance your team's efficiency, reduce errors, and create greater engagement within your organization's walls!