Making Sense of Scheduling
At Mosaic HCM, we understand that scheduling isn't easy. In fact, it's often a very time-consuming task that can be wrought with innocent errors, which ultimately costs employees a lot of money and employee morale when things don't go right.
We take our scheduling expertise seriously. Our goal is to help you operate a more efficient organization with less frustration. Workforce1 offers you the opportunity to:
Create ideal schedules, keeping your staff members' desires and company's needs at the heart of every decision.
Eliminate human errors, which can easily happen when you use spreadsheets, sticky notes, or paper forms.
Align scheduling needs with company demands, by putting people in place when you forecast moments of high demand or keeping your schedule bare-bones when your labor costs could overwhelm sales.
Take control of compliance issues by knowing who's scheduled to work and which hours they'll be working.
Connect Schedules to the Needs of Your Business
---
With Mosaic HCM's Cloud-Based Scheduling software you can ensure that your business is always staffed with the right people, in the right place, at the right time. Your business can make intelligent staffing decisions based on compliance and productivity to craft an optimized schedule for not only your needs but your employees as well.
Beyond this, the Scheduler is a tool that enables employee engagement by putting your staff in the driver's seat. By enabling your employees to request time off, bid for ideal shifts, and swap hours with colleagues online, they'll feel more in control of their work lives, and your managers will have more time to take care of your operations' needs. It's a win-win.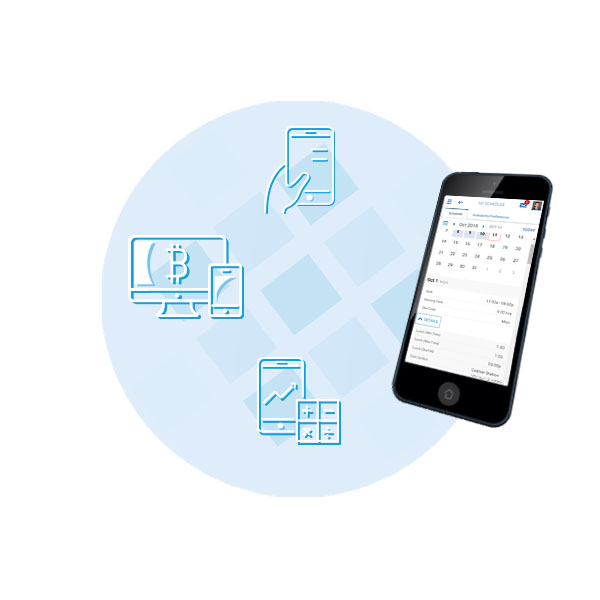 Why You Need Us For Streamlines Scheduling
The thing is, we're not just a software company. We're a team of human resource professionals who knows exactly what you're going through. 95% of our staff is operations based, which means our entire company is built to deliver positive outcomes for our clients—and most of our team has held a position similar to yours. We understand the frustrations involved with scheduling, so we do everything we can to eliminate the excessive time and energy our clients used to put into this essential function.
You'll receive incredible service, customizable products, and a software solution that's essentially click-and-go. Our service offers:
Coverage Maps. Quickly pinpoint places where you might need a few extra hands on deck.

Easily determine how your cost centers, necessary skill sets, and time worked are impacted each day.

Employee Schedule Snapshots. At the click of a button, you can see where your labor costs may be faltering so you can adjust your schedule accordingly.

Put self-service functions in the palm of your employees hands from their mobile devices to allow them to view schedules, availability preferences, shift swaps, coverage requests, open shifts and more.